The only piece of equipment that is completely compulsory for a fair game of football, whether it is at the park with your mates, Sunday League or any form of competition is the actual ball.
But with so many out there on the market for sale, it is important that you know which one is right for your game and your style of play. You need to know whether certain design modifications will cause the effects of the wind to be more visible within your game, you need to know if the ball that costs 3 times more than the others is actually worth it performance wise.
Many types of footballs are sold including training footballs, match balls, professional match balls, beach balls, street balls (made to withstand the tougher outdoor surfaces), indoor balls, turf balls, futsal balls and mini/skills balls.
As footballs do not vary much in terms of level of skill, we will be unable to provide different types depending on skill level but it is important that you use the appropriate ball for the event, competition or occasion.
These balls are most likely going to be more expensive than all the other balls on the market, mainly because they have been approved by FIFA which simply means they are of all best standards possible and have received approval from the biggest governing body in the football world. To receive approval from FIFA they are required to have passed a series of trying tests that ensure they have suitable shape, air retention performance, water absorption and also flight.
The official Match Balls of all major leagues including the
are Premium Match Balls that have been approved by FIFA.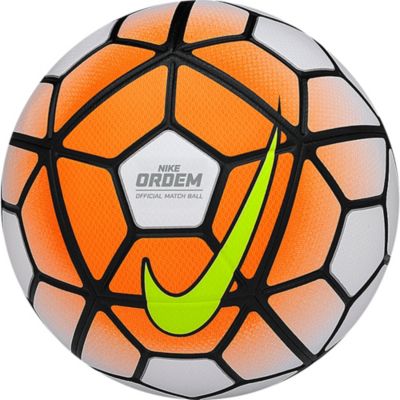 Match balls will have most of the features of a Premium Match Ball with a much lower price tag, but with a lot less quality tests performed, it may not be as good (but still pretty good). For weekend teams or schools, a Match Ball would be recommended.

Soccer Training balls are not built to be quite as quality as the two types we have already described, but with more possible playing surfaces and also posing great durability, it is the perfect ball for someone who is simply looking to train and may be good for beginners.
Turf balls are designed to simply present a more durable option for those who want to play on turf or artificial ground, as more and more of them appear and they become more and more modern.

Indoor Soccer Balls are suitable for games that will be played inside; they present the feature of having slightly less rebound which makes it easier with the tight conditions in which indoor games are played and the rebound of walls. They also have much more durable cover to withstand the rebounding off hard walls.

Futsal soccer balls will usually be smaller than a regular match ball, but will weigh about the same as a regular full size (size 5) football. They usually are low bounce meaning they will not bounce up to the ceiling or too high and are made with features that are suitable and make control and play on hard surfaces easier.